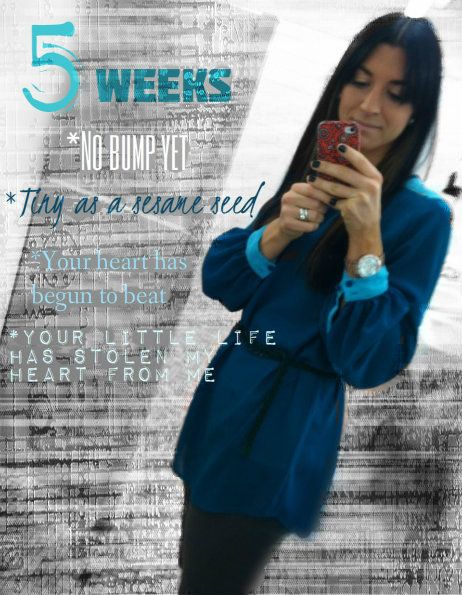 Dear baby,
Here we are at the start of week 5 ::9-19-2012::
I'm so excited to add another week to the books.
I've begun feeling slightly nauseous, but nothing too alarming yet.
I feel like my heart is beating faster though, as if my body is working overtime;
which I'm sure it is right now.
This week your little tiny heart begins to beat. Wow!
I'm in aw and wonder at the fact that this is all happening inside of me.
I'll admit I get a little scared, thinking that I won't have the strength to endure pregnancy,
but I see these fears as chance to trust God and dive deeper into His love and strength.

:: 9-21-12 ::
Week 5 has definitely brought on a little more sickness, especially last night and today.
I woke up feeling nauseous, and on my way to work I was starving!
I'm not usually really hungry like that in the morning.
I stopped at Starbucks, got my half-cafe and a breakfast sandwich;
which I devoured the sandwich in .2 seconds.

While laying in bed this morning (feeling icky) I read this verse
and it was very encouraging to me.

Philippians 1:6
"...being confident of this very thing,
that He who has begun a good work
in you will complete it
until the day of Jesus Christ."

You are a good work that the Lord is doing in me.
I can trust that His will is perfect.
He knows what's going on inside me.
He knows the strength I will need & He will provide it.
He is my beautiful reassurance that everything will be OK.

Happy 5 weeks baby!

:: 9-23-12 ::
Well baby,
You've begun to take me for an unforgettable ride.
Morning sickness [all night & day] has really gone into full swing.
Last night I woke up at 3am and thought I was fighting a fever.
My hands and feet were clammy, I was burning up, but at the same time shivering cold.
I took my temp twice and thankfully I wasn't running a fever.
I was also starving and dying of thirst.
Your daddy so graciously got up and was wide awake with me for a good 30 or so mins.
He rubbed my back and head, in order to try and help make me feel better.
I was wide awake for awhile unable to sleep from it all.

I felt awful at church today, but still managed to go.
Serving on the coffee bar ended up being a great distraction from the sickness.
It was hard to not tell people the "real" reason I wasn't feeling good.
I just chalked it up to not really knowing what it was... maybe sinuses.
It's not good to fib like that, but you are our secret for just a little while longer. :)

I bought my first pregnancy magazine today! Yay!
I feel like I'm swimming in a sea of baby, and I'm grasping to understand it all.
In those moments when I feel overwhelmed I tell myself it will all come together.
I have so many strong women who have gone before me,
I'm sure they will be there to assist along the way.

Oh, and the most odd symptom yet is my aversion to coffee today.
I drank about two sips and was done. That is unheard of!
Baby, you are rocking my world and I wouldn't have it any other way.

At lunch today, your daddy talked about how
you are being made in our imagine, and how much that is blowing his mind.
He is really [me too] excited to see who you look like and how you look like us.
For now we wait in hopeful anticipation!
Weather you look like us or not, you will look
just the way your heavenly Father designed you to be. Perfect.

You made the delicate,
inner parts of my body
and knit me together in my mothers womb.
Psalm 139:13 (NLT)

:: 9-24-12 ::
Today was the first day (a Monday) that I felt so sick at work.
My friend (& Director) Crysty is the one person I've told about you.
Knowing how sick I was feeling she bought me a sweet "get well" card
along with some other "get well" goodies.
Super thoughtful! I was so blessed by her gift.
I told her that eating the saltine crackers was like eating gold.