Welcome to week 27!
Week 27 was good. Filled with some exciting things.
This week we finished painting the dresser. We love it!
I have one more coat of paint to add to the mirror and then it will be all set. :)
Dressers aren't cheap! To save money we bought this one locally, and painted it ourselves.
:: Before ::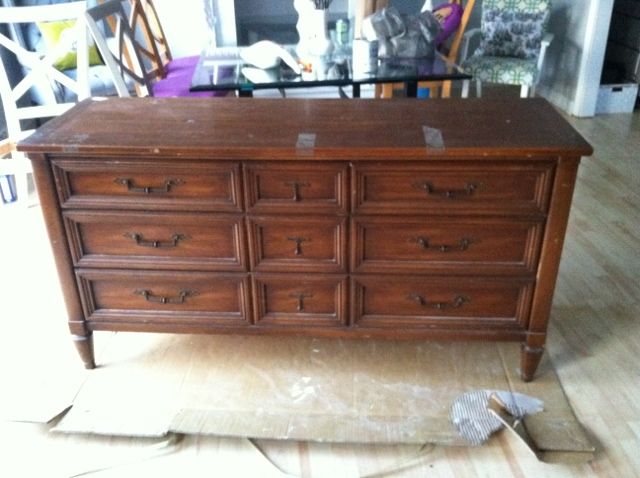 :: After ::
After throwing around some ideas, we decided to keep the hardware the same.
We're glad we did!
(the decor on the dresser isn't staying there)
Random 27 week belly shots.
Stripes; does a belly good. ;)
Thankfully with the way clothes are made these days I'm still able to fit into some non-maternity gear. But as you can see below, some of my stuff not so much. ;) My tank tops keep riding up creating this
awesome (annoying)
peek-a-boo of my stomach.
No worries, I don't go around like that in public :P
:: Some pregnant obsessions ::
PANCAKES!!!
OH MAN do I LOVE THEM.
I've been good though. Limiting my intake to strictly Saturday's.
Since being pregnant I've gained more of an appreciation for sweets. I think this little guy is turning out to be like his daddy in this area. Kevin LOVES himself some sweet treats. ;)
I'm more of a salty kind of girl, but not as much lately.
I also could eat a bowl of Honey Bunches of Oats (with almonds) every night for dessert. So good.
I have to say though, I've been pretty darn good at eating healthy, and controlling my cravings throughout this pregnancy.
You can't see it, but I love to put peanut butter in-between my pancakes! Yum!






:: Random story ::
I planned to workout on my lunch break the other day and mid-change I realized I forgot my workout pants. I was frustrated, because I was feeling like I really needed to get this workout in. So since my work pants were black and kind of looked like workout pants I decided to wear them. ;)
Since I work at a University (where the gym is too), I already feel like the college students look at me in wonder supecting that I'm some knocked up college student. So wearing these work pants topped it off for me.
Oh well they worked and I got my workout in!
:: Exciting moment ::
Kevin and I went out for pizza after church on Sunday and while we were waiting for our food
I could have sworn I felt our little guy hiccuping for the first time! I hadn't felt it before.
It was a continuous consistent tap inside my belly.
I thought it was cute.
It's funny too, because whenever I get hungry I get the hiccups (strange huh!?).
So maybe baby V had the hungry hiccups too that day! ;)
I've also noticed that when I get feeling really hungry, he starts moving around more.
I've wondered if that means he's hungry too?
Does that or did that happen to you?
:: Overjoyed ::
Dear baby boy,
I cannot wait...
To meet you.
To hold you.
To give you kisses & hugs.
To see your fingers & toes.
To smush my nose and cheeks to yours.
To call you by name.
To hear your cry (yes even that).
To be a light in your life.
To love you.