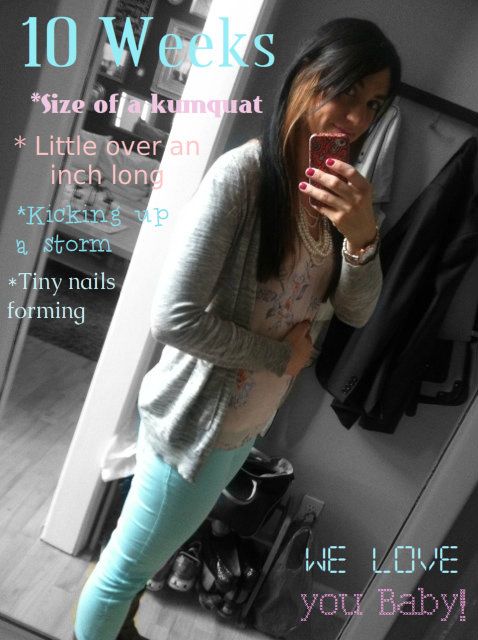 :: 10-24-12 ::
Welcome to 10 Weeks!
Dear baby,
Today everything became all the more real.
This was really happening.
We went in with excitement, and left blown away.
For a laugh: As I was waiting for my first exam to begin, I sent this picture to Dunks while he was in the waiting room. He responded that I was "covered in paper towels." haha That cracked me up. ;P
We got to see and hear you for the first time today.
Words can't describe how amazing that moment was.
You were beyond cute.
You were laying still at first, but then all of a sudden
you began to move and move.
I think you shocked everyone in the room.
It looked like you were dancing, moving your legs and arms all around.
It also looked like you waved hi to us. ha!
I was not expecting to see you move so much.
I prayed that you would move, and my prayer was answered.
You are adorable.
Our hearts are full.
As soon as you dad walked into the room to see the ultrasound I became emotional.
I told the doctors and nurses I was probably going to cry when I saw you.
The nurses and Dr. were so great. The nurses said that they would probably cry with me.
We have been smiling from ear to ear all day.
We can't stop looking at your picture.
It is so precious to us.
Your predicted due date is:
:: Oct 22, 2013 ::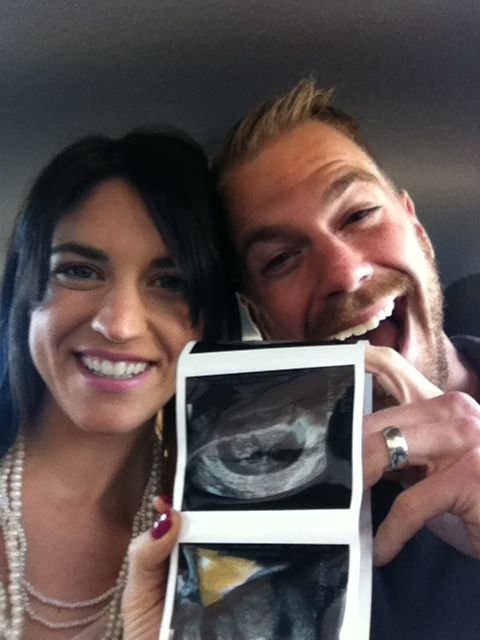 After returning to work I headed out to for a celebratory lunch with two friends.
[only 3 girlfriends friends know so far]
After lunch we went to Target, and Crysty bought me a belly band in
honor of 10 weeks and baby. That was so sweet of her.
:: What's going on in the belly world ::
So far only some growth it seems.
I don't know if it's growth, extra chub, or being bloated.
Some pants fit, and some don't. I think the belly band will come in handy real soon!
:: Oct 22, 2012 ::
We went shopping and found Dunk's outfit for our upcoming photo-shoot. The photo-shoot is going to be baby announcement picture/Christmas card pictures. I'm super excited. I have my outfit pretty much put together, I just need to get a few more things. I really hope they turn out like I'm imagining. :)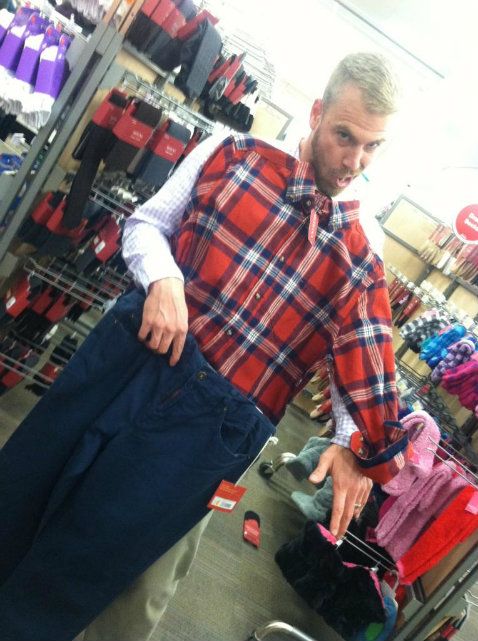 I've began working on our baby reveal party decorations. It's been fun to plan and put all this together. I can't remember if I've already wrote about this, but we are planning on having a "birthday" party for Kevin with our close friends when we are home in MI, but little do they know that the surprise is on them! It's a stache bash with bowties and mustaches, but really the bowties represent boy and the bowties represent girl. Obviously we don't know what we are having, but I thought it would be fun to represent both. I also went with neutral colors because of that. I'll be posting more details as they come along, or after the party happens.
Here's the invite that was given to friends, and the decor so far.
:: Oct 30, 2012 ::
Well, today I went to the gym and ran for the first time in weeks. I didn't want to overdue it, so I did 5 min intervals with walking in-between. A total of 35 mins of cardio. Pretty good considering how awful I've been feeling. :) Here's a pretty good belly shot. It has began to slowly grow. Grow baby grow!