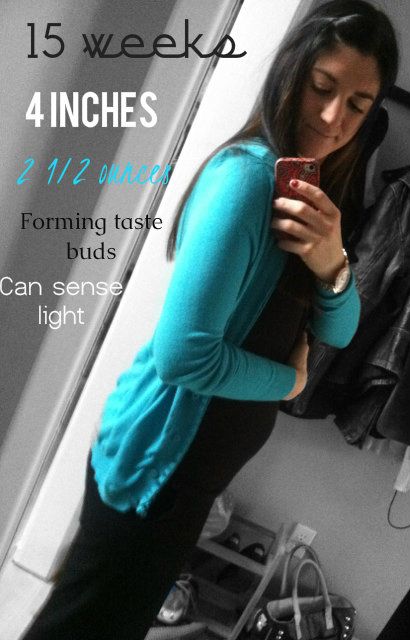 Welcome to week 15 baby!
This week started out like any other.
Sick sick and more sick, BUT thank the Lord it got better!
The acid reflux I was dealing with started to get much better.
I'm not really sure what solved it.
**Probably not eating oranges or drinking orange juice anymore** ;0)
It still comes and goes, but not as intense as it had been for awhile.
I'm praying this sticks. ;)
Everyday is new, and everyday I am still in awe and wonder at the fact that I have a baby floating in my body. Still feels surreal.
We find out what we are having on Jan. 2nd!
We can't wait.
We haven't done any planning for baby, but once we find out what it is, it will begin!
I'm really starting to learn and see all these choices we have to make as parents, and it's just begun!
We keep reminding each other to take it one day at a time, and God will lead.
:: Here are some common questions I get asked ::
**I don't mind getting asked, I would be wondering the same things** ;)
Do you have a preference on the gender: No.
For a long time Kevin always said he wanted a boy first, and I said girl first, but now that it's here, we could careless either way. We eventually want both (Lord willing), and are equally excited for what God has in store.
Do you have a feeling on what it is?
Somewhat. I'm feeling more like boy.
When I think about baby being a boy I'm not as shocked, as when I think about it being a girl.
Do you have names picked out? No.
We have
some
maybe names.
I have a boys name that I would feel confident using, but it's nothing solid.
We haven't dived into really figuring it out.
Again, waiting on the gender.
Will you be sharing the name? Not sure yet.
I asked Kevin his opinion on this question the other night, and I was surprised by his answer.
He leaning towards not telling until the baby is born.
I'm torn. I think it will be hard for me to not say, but we'll see. :)
:: In other news ::
I did start back working out this week.
It feels good to get back into a routine.
I've been running on the treadmill at the gym. I don't feel like I can go as far or as fast though :(
Least I'm moving. I notice my mental state is also in a better place when I'm active.
:: Something I can't stand lately ::
Brushing my teeth at night time.
It gags me. I HATE it, but I still do it.
I'm seriously thinking about trying some kids bubble gum kind or something.
It's just that the mint is too much and I hate the after taste of toothpaste.
For some reason it's fine in the morning, but not at night.
Cheers to 15 weeks!
Only 5 more till we find out what baby Van Wynsberg is!
I get more excited by the day. :)