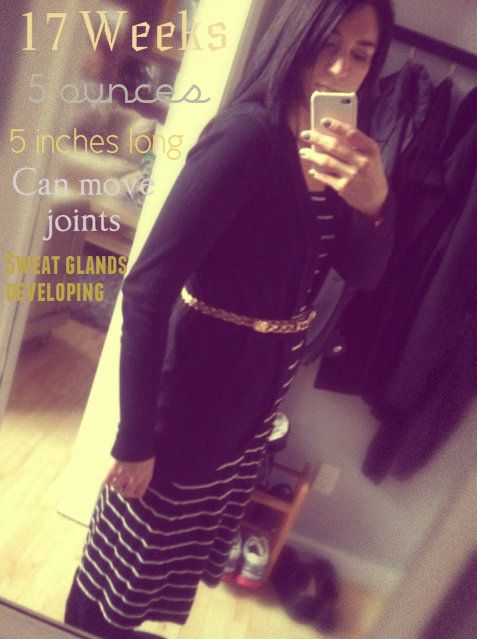 Welcome to Week 17!
:: How far along
- 17 Weeks
:: Size of baby
– about the length of a turnip; around 5 inches long
:: Total Weight Gain/Loss
- rather not say. ;) Actually, I'm not sure, since i haven't weighed myself in awhile. Maybe I'll share that next time
:: Maternity Clothes
- Yes, just recently went all out in this area, and I feel much better in my skin
:: Gender
- 2 weeks till we find out!
:: Gender guesses
– I've gotten a lot of boy and girl guesses from people. I'm still thinking boy, but was kind of feeling girl this week.
I'm definitely on the edge of my seat wanting to know.
Whatever it is, we're going to be surprised.
:: Names
- No solid names, just a few maybes
:: Movement
- I don't think I've felt anything. I really have no idea if what I'm feeling is the baby. I wish I knew!
:: Sleep
- I'm sleeping pretty good. I wake up more than normal to use the restroom. I also find it hard to sleep on just my left side (which is what I heard I'm supposed to do).
I'm a tummy sleeper, so my body naturally tries to lay that way when I'm sleeping. It usually wakes me up, because that is a no go now
:: What I miss
- My mouth not tasting like metal, water not tasting like dirt, and sleeping on my stomach
:: Cravings
- Nothing really. I do like really cold drinks, which I didn't care about before becoming pregnant
:: Symptoms
– Moments of being overwhelmingly emotional. For some reason these moments have happened mostly when I'm around Kevin.
Thankfully he's super understanding and a great support. Metal taste still on and off. Food digestion has gotten better! I've also begun to tolerate coffee a little bit.
I don't drink much of it, just maybe a few sips once or twice a week.
:: Best Moment this week – Maternity clothes shopping at a legit maternity store! Merry Christmas to me!
:: This is not my belly. The store had one you could try on with your clothes, so I did.
The belly's a bit lumpy, and I don't know why I'm making that face, but you get the idea ::
After dinner and shopping, we headed on over to the Dickens Christmas event that was going on in downtown Roanoke. That was a lot of fun. Hotel Roanoke was having a Christmas tree decorating contest. I wish I would have taken more pictures of the trees, but picture probably wouldn't do it justice.
Here's one we got. ;)
:: I got to hold precious baby Grace ::
She is adorable! Tiny tiny tiny!

I'm always surprised at how quickly my arms get tired when holding a baby.
Mom's have super-human powers. I hope that happens to me. ;)
:: Food ::
Kevin and I are NOT cooks.
We've despised cooking our whole marriage. It feels like a chore we don't enjoy.
Well, recently, I came across a Groupon for
The Fresh 20
website, so we gave it a try and have been enjoying cooking more and more ever since.
Since we don't know how to cook, a lot of time we make the same things over and over again, which gets ridiculously boring. So this site has helped us shop for the things we need and branch out and get creative with cooking.
We've learned a lot in the last few weeks, and the meals have been healthy and great.
Kevin made this meal last night and it was awesome!
Chicken & Sweet Pepper Mozzarella Melts - with Tomato Soup.
We've never once made homemade tomato soup, so this was quite an accomplishment!
:: Stockings ::
I finally got around to making the burlap stockings I had been envisioning for awhile.
I had bought the materials weeks back, but didn't have the time or energy to tackle them.
But, they are done! They turned out a little more narrow than I thought, but I still like them a lot. :)
It's been a good week.
I'm thankful for the love and strength God has been providing through this journey.

Not that I have already attained, or am already perfected; but I press on, that I may lay hold of that for which Christ Jesus has also laid hold of me. - Philippians 3:12